Developability Assessment
Drug Product Development Services
Supporting selection for clinical and commercial success
Data science based liability site identification
Developability assessment is a pivotal process in drug development. This multifaceted evaluation of potential therapeutic candidates' drug-like properties, manufacturability, and safety profile is crucial during research and pre-clinical stage for clinical and commercial success. Identifying the most stable candidate early on minimizes the risks of costly late-stage attrition, benefiting both the industry and patients.
Selecting a drug candidate for clinical and commercial success is a critical step in the drug development process. Early-stage Developability assessment expedites the process by identifying the best lead candidates, potential development challenges, risks like aggregation, fragmentation, and suboptimal solubility. It ensures that molecules with suboptimal properties don't progress directly to preclinical and early clinical development, decreasing failures, lowering costs, and shortening development timelines.
Developability assessment extends the Quality by Design concept, encompassing a thorough investigation into the manufacturing feasibility, ideal administration route, and in-vivo compatibility. By evaluating expression quality, stability, solubility, and purity, among other critical parameters, this assessment ensures a favorable biological drug profile, conserving resources and preventing late-stage setbacks.
Leukocare's Developability Assessment Expertise
Leukocare's scientific expertise can help to de-risk your drug development. As it is important to assess the developability of your drug substance candidates, starting with the design of the developability assessments to the intended commercial use and ending with the selection of the best candidate, Leukocare's scientific project leaders work with you on the establishment of the developability assessment and its methods. As the Target Product Profile (TPP) often changes between early clinical, late clinical, and commercial phases, it is also important to address the further developability requirements of candidates. Leukocare offers a range of services and analytical methods to assess these CMC properties that may affect the formulability, manufacturability and administrability of the drug candidate. From biophysical methods and the interpretation of their data to the use of data science and Molecular Modeling, our team is committed to helping you find the best lead candidate for your clinical and commercial success.
On-demand Webinar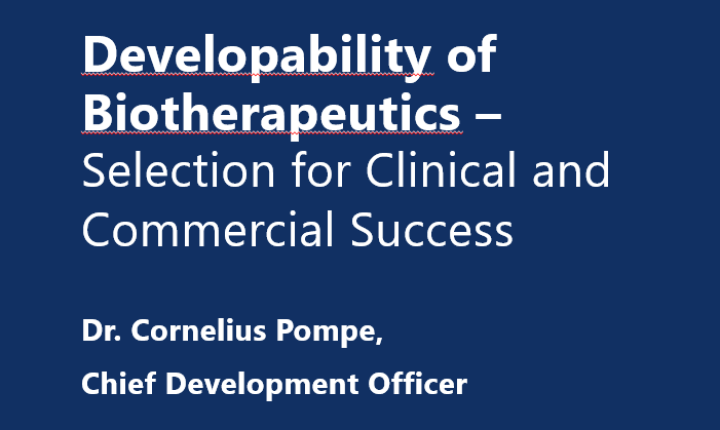 Watch the webinar
In the last decades, the biopharmaceutical industry has faced high attrition rates during early and late-stage clinical development. Hence, there is a significant need for the integration of thorough developability assessments in drug discovery and preclinical phases to de-risk programs.
In this webinar, Dr. Cornelius Pompe, our Chief Development Officer, will shed light on the assessment of CMC properties and how data science can support the nomination of a lead candidate molecule.
Services for Developability Assessment
Characterization
In-silico characterization – Molecular Modeling
Biophysical characterization
Molecular purity and integrity analysis
Formulability
TPP fit
Osmolality, pH, and viscosity analysis
Concentration studies
Molecular purity and integrity analysis
Manufacturability
Adsorption studies
Spiking studies
pH jump studies
Manufacturing stress studies
Administrability
pH jump studies
In-use stability
Embrace the Evolution – Harness the Power of Developability Assessment.
Contact us