Formulation Development & Optimization
Drug Product Development Services
98% customer satisfaction
More than 20 years of experience
Formulation development is an essential part of the process of developing an effective drug product (DP) in a specific dosage form while ensuring its stability, usability, and patient safety. The formulation development depends on the drug substance (DS) and the Target Product Profile (TPP) taking into account your development stage, needs, and timelines. It also assesses whether the final DP is fit for manufacturing and administration.
Experts in Formulation Development & Optimization
At Leukocare, we pride ourselves on our commitment to meticulous drug formulation, marrying scientific rigor with innovative solutions. Leukocare's advanced formulation development of sterile drug products is based on decades of formulation expertise in combination with state-of-the-art data science to de-risk and accelerate your DP development ensuring the delivery of a stable product in a proper formulation.
Our Core Principles
Scientific Expertise
Our seasoned team of scientists brings a wealth of experience to every formulation project, ensuring that the intricacies of drug substances are translated into robust, effective formulations.
Harnessing AI
As part of the advanced formulation approach, Leukocare's bioinformatics and biostatistics team brings innovative data science in combination with expertise to accelerate and de-risk your drug development.
Flexible & Customer Centric
Our modular formulation development services offer full flexibility to fit your development stage, needs, timelines, and budget. We also provide customer-centric project management for every project to ensure optimal efficiency and satisfaction.
Key Phases in Our Formulation Process
Pre-Formulation Studies
Our process initiates with in-depth pre-formulation studies, carefully examining molecule's properties such as solubility, stability, and compatibility to inform subsequent formulation decisions.
Excipient Selection
The importance of excipient selection cannot be overstated. Our experts in combination with our innovative data science based tools find the best excipients to ensure compatibility, stability, and overall performance of your product.
Next-gen Design of Experiment (DoE)
With our biostatistics team and tailored to your timeline and needs, we utilize DoE and statistical analysis to test and find the best excipient combination while minimizing time and drug substance needed.
Stability Assessments
Rigorous stability testing is conducted to tell us how we can best stabilize the drug substance against varying environmental conditions. We offer different stability testing services from initial stability testing, to long-term stability studies and in-use stability assessment to ensure our formulation developments leads to quality and integrity of the drug product prior and during administration.
Analytical Methods Development
Our analytical team ensures the highest standards of quality by developing methods for comprehensive and precise analysis of the characteristics and quality attributes critical to your drug substance.
Navigating Every Phase of Drug Development
Through every phase of drug development with Leukocare, we are your trusted formulation partner. From late discovery phase to commercialization, we navigate the intricate landscapes of drug development, ensuring precision, efficiency, and success at every turn.
Late Discovery Phase: Accelerating your Ascent
In this pivotal phase, we not only support the development of your Target Product Profile (TPP) but also propel your Drug Substance (DS) swiftly to pre-clinical and clinical phases. Our strategic formulation approach ensures speed and intelligence, laying a foundation for the stages to come.
Pre-clinical Phase: Excellence and Precision on your Timelines
As you transition to pre-clinical endeavors, we tailor formulations to your needs and timelines. Our expertise extends to analytical method and process development and utilizing regulatory-approved excipients in your formulations to surmount clinical hurdles. In-use stability testing and non-GMP filling for tox studies further fortify your journey.
Clinical Phases: Advancing Formulation to Support Clinical Success
Through the clinical phases, we develop and refine formulations, enhancing the likelihood of clinical and commercial success. Conducting a meticulous CMC problem analysis, we provide solutions and establish a profound product understanding. Our stability testing spans short-, mid-, long-term, and in-use scenarios, generating supporting data for regulatory submissions.
Commercialization Stage: Sustaining Success Beyond Borders
As you approach commercialization, we stand by you with Life-Cycle Management strategies. From optimizing formulations to improving routes of administration and enhancing patient convenience, we aim to secure you a competitive advantage. Leveraging the full design space, we craft options for extending your intellectual property and aim to generate formulations to design around formulations protected by your competitors.
At Leukocare, we offer formulations in liquid, liquid frozen, spray dried, and lyophilized dosage forms for biologics, biosimilars, viruses, vaccines and ATMPs, RNA and DNA-based drug products, and small molecules. Accelerate your drug development to the clinic. Meet your timelines with Leukocare as your expert formulation partner!
Leukocare's SMART Formulation Options: Flexible options to get the best formulation for your drug product based on your development stage, needs, timelines, and budget
Quick and Smart
With the Quick and Smart formulation development services, we develop stable formulations in a short period of time. With low material requirements, we can characterize the physico-chemical properties of your DS to develop optimal formulations. This Quick and Smart approach is ideal for pre- and early stage-clinical phases. This approach allows for the evaluation whether the DS fits to your TPP and provides a strong foundation for further formulation development and optimization.
Advanced and Smart
Advanced and Smart formulation development is optimal for all clinical phases. Rigorous analytical methods are used to check DS characteristics against the TPP, which underpins further formulation development and optimization. Leaning on well-established internal scientific know-how and data science, we can utilize a Next-gen Design of Experiments (DoE) for screening and partial optimization. Furthermore, we can apply Response Surface Methodology (RSM) and stability prediction, and if requested, we can consult on potential Intellectual Property (IP) generation within formulation development.
Comprehensive and Smart
The most comprehensive formulation development is well suited for all clinical phases of drug product development. Our well-equipped team assesses the TPP, utilizing our well-established internal scientific know-how in combination with our innovative data-science-based tools. The comprehensive approach allows for Next-gen DoE screening and subsequent optimization, as well as RSM and stability prediction. Furthermore, we engage in IP consultations and assist in generating additional IP for your drug product. We also provide supportive stability data for Biologics License Application (BLA), New Drug Application (NDA), and Marketing Authorization Application (MAA), proving our value in not only the development but also the authorization phases.
"Our company had to deal with an unstable protein formulation, and Leukocare has supported us to find an improved formulation candidate. We appreciate the broad analytical capabilities, clear communication, and timely delivery of results… All in all, a recommended partner."

Director CMC, Mid-size Biotech company
Case study - Adenovirus in liquid formulation
Viral Stability and Infectivity of Ad5


Viral stability of Ad5 maintained more than 24 months at 5° C during liquid storage
The Leukocare formulations (blue lines) of Human species C adenovirus serotype 5 (Ad5) maintained viral stability and infectivity during liquid storage for at least 24 months at 5° C.
Reinauer et al. (2020), J Pharm Sci
Case study - High concentration
High Concentration Antibody Formulation – Reduced Aggregation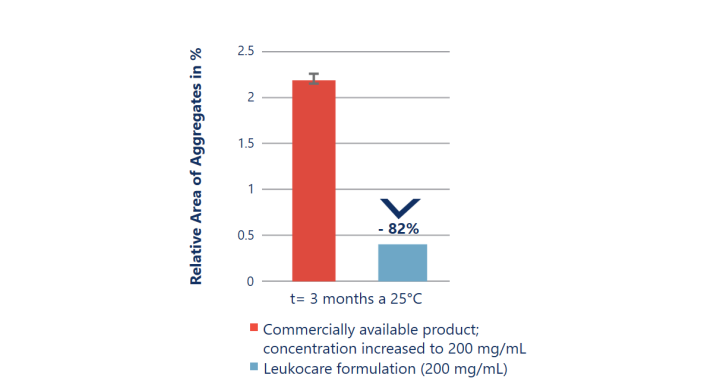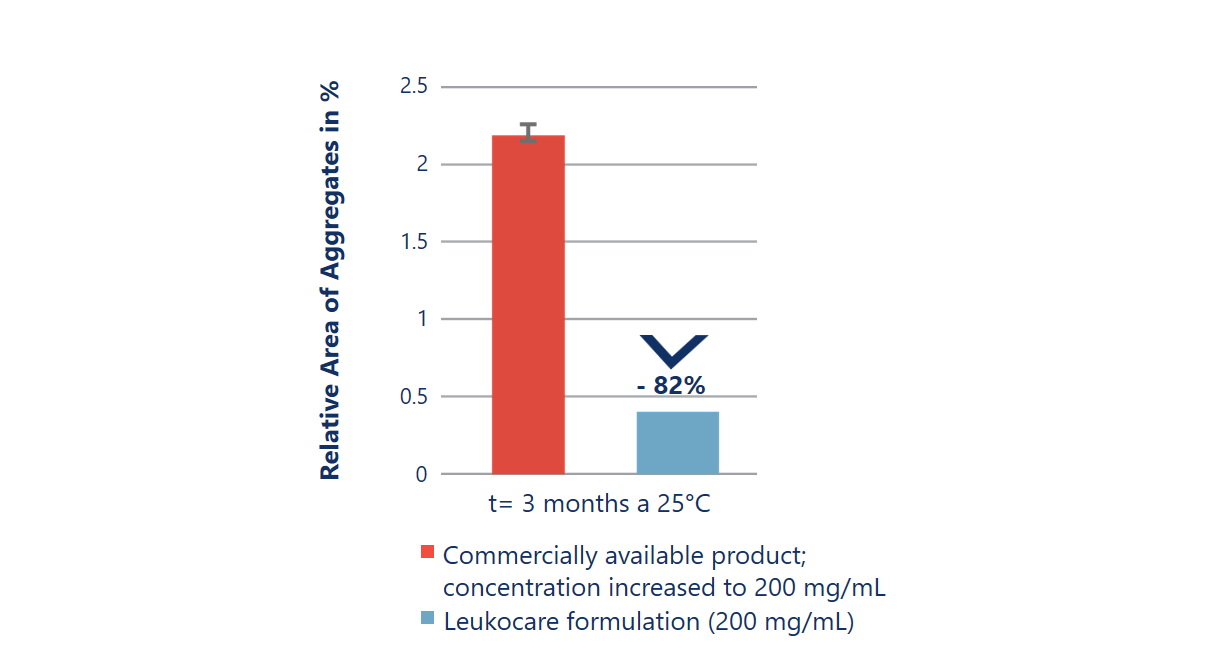 Improved stability at almost 2x the antibody concentration
Up-concentrating an antibody using a standard formulation does not always result in a stable drug product. The up-concentrated commercially available formulation (red) is significantly less stable as it results in a drastically increased rate of aggregation. In comparison, Leukocare's HighCon antibody formulation (blue) achieved a 2-fold higher concentration while stably preventing any increase in aggregate formation over time.
Kemter et al. (2018), Biotechnol
Accelerate your drug product's formulation with data science
Contact us
Webinar - HighCon Antibody Formulation
Learn how Leukocare can enable you to get high concentration antibody formulation without increasing viscosity and aggregation.
Webinar - AAV Stability Assessment
Stability assessment in drug product formulation development
Flyer - Improved Stability of Virus and Viral Vectors
Stable formulations and robust analytics for viruses & viral vectors